"I am going to try to pay attention to the spring. I am going to look around at all the flowers, and look up at the hectic trees. I am going to close my eyes and listen." – Anne Lamott
March Pickle Barrel
is open through March, 24.
Call it Spring is bright and sunny collection perfect for Spring, Summer, Nature and everyday layouts or any other projects!
This month I'm giving you a FREE Real Messy Stitches with the 6-Pack.
I finally opened my sewing machine after 20 years of not sewing anything and I needed to set it up first, of course! And the stitches are the result! I hope you like them! They come in PNG, but also in PSD with shadows, so you can adjust shadows as you need. Also, the shadows come in separate PNG file too, for those who can't play with PSD files.
This pack is not being sold separately during the Pickle Barrel, so grab the 6-Pack to get it FREE!
Each pack is also available individually, plus coordinating add on packs are 60%! Only through March, 24!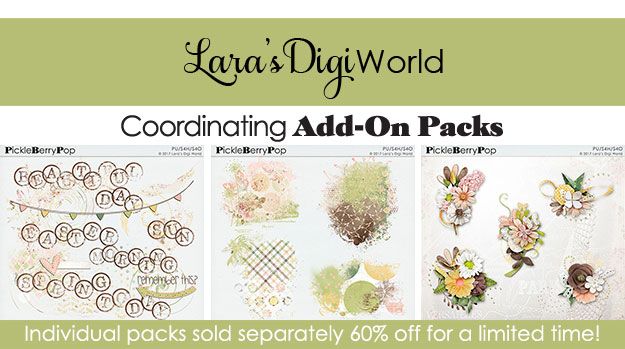 Receive
Ocean Drive Page Kit
free
with any $5 purchase at
Lara's Digi World
store, through March 31, 2017!
The Free product will be automatically added to your cart.